Colon, Panama
This western Caribbean port, established in 1850, is home to one of the world's largest duty-free zones. After stocking up on souvenirs and savings, discover indigenous culture in the village of the Embera Indians, marvel at the engineering of the Miraflores locks on the Panama Canal and take in views of Gatun Lake and the Chagres River from the observation tower in Gamboa Rainforest Resort. Located 30 miles southwest, the San Lorenzo Protected Forest features diverse flora and fauna and numerous Spanish forts that date to the 17th and 18th centuries. Additional defense structures can be seen in the nearby town of Portobelo, where you can embark on a boat ride around the bay. On Isla Grande, gorgeous beaches and clear blue waters provide the ideal setting for snorkeling, scuba diving and relaxation. The island's lighthouse was designed by the same man who engineered the Eiffel Tower.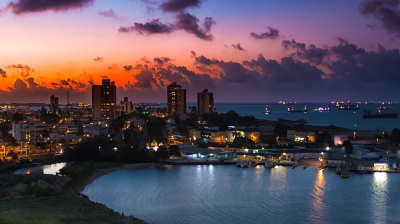 Language: Spanish
Currency: Panamanian Balboa (PAB), US dollar (US$)
Driving Directions and Parking Information
Port of Colon
Calle 13, Paseo Gorgas
Colon City, Panama
The Port of Colon is located approximately an hour and a half from the Tocumen International Airport. Secured parking is available at the pier at a rate of $30.00 per week (subject to change).
Driving from Tocumen International Airport to Port of Colon - Take the Domingo Diaz Avenue and go straight to the Ricardo J Alfaro Avenue (no turn to get to this Avenue), continue to take La Paz Avenue, which is in the right lane. Keep straight and follow signs for Corredor Norte (which is the highway to Colon). The road will divide in two, stay in the right lane and you will enter the highway, Alberto Motta. Drive about half an hour until you reach the City of Colon. Continue straight thru town. Turn right onto 13th Street. Follow street until you are only able to turn left onto Paseo Gorgas, where Colon 2000 Pier is located.
Driving from the city to the Port of Colon - Take the north corridor to Chilibre, here you will connect to the transismic highway to Colon. At entrance of Colon stay in Central Avenue. Take 9th Street to the right straight to the Port.
Colon, Panama Weather
Jan
Feb
Mar
Apr
May
Jun
Jul
Aug
Sep
Oct
Nov
Dec
High
84
84
85
86
87
86
85
85
87
86
84
84
Low
76
76
76
77
76
75
75
75
75
74
74
75
Jan
Feb
Mar
Apr
May
Jun
Jul
Aug
Sep
Oct
Nov
Dec
High
29
29
29
30
31
30
29
29
31
30
29
29
Low
24
24
24
25
24
24
24
24
24
23
23
24
Jan
Feb
Mar
Apr
May
Jun
Jul
Aug
Sep
Oct
Nov
Dec
Inches
4
2
1
4
11
14
16
16
11
18
24
13
Centimeters
10
5
3
10
28
36
41
41
28
46
61
33
Jan
Feb
Mar
Apr
May
Jun
Jul
Aug
Sep
Oct
Nov
Dec
Days
7
5
4
5
15
17
19
18
18
19
22
16
Jan
Feb
Mar
Apr
May
Jun
Jul
Aug
Sep
Oct
Nov
Dec
Percent
79
78
77
79
86
87
88
88
87
88
89
85